Are you going to start watching Naruto and want to know a little more about the characters before falling headlong into the anime? Or have you already started checking out the episodes and want to better understand the history of each of the ninjas? Check out information such as history, powers and other trivia about 21 characters from this one of the most-watched animes in the world.
Naruto Uzumaki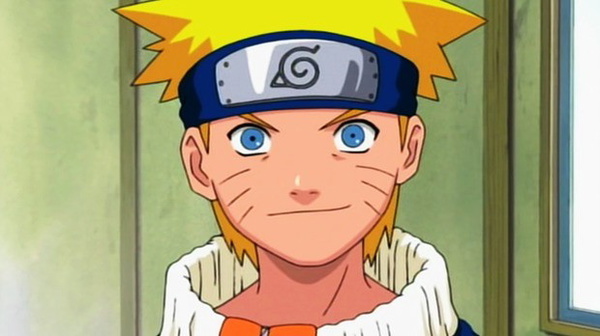 Village: Konohagakure (Hidden Village of the Leaf)
As a child, Naruto became a jinchūriki, the name given to humans who have sealed-tailed beasts inside them. Bearer of Kurama, the Nine-Tailed Fox that one day attacked Konoha, the boy ended up being excluded and suffering prejudice throughout his childhood in his village.
With the dream of one day becoming Hokage, the leader of his village, Naruto undergoes tough training to become a ninja. During training, he joins Team Kakashi, also known as Team 7, alongside Sasuke and Sakura, under the guidance of Kakashi Hatake.
During his journey to become a ninja, Naruto goes from being one of the worst students in his class to one of the most powerful warriors in Konoha. But his plans to one day become Hokage are hampered by the fact that he needs to save Sasuke from the path of hatred and darkness that the young man has taken.
Powers
For a long time, Naruto proved to be an unskilled ninja, even failing Konoha Academy three times. His determination not only to become a better warrior but also to protect those he loved, would change that picture, making him one of the most powerful shinobi (male ninjas).
Also, Naruto's chakra is somewhat special, which enabled him to become the bearer of Kurama. His chakra level is about 4 times that of his mentor Kakashi. Gradually, he develops greater control over his chakra and also over Kurama, an entity whose power he could only access in moments of anger before. Still, if he doesn't control his anger, it's possible he'll be overwhelmed by the negative influence of the Nine-Tailed Beast.
Sasuke Uchiha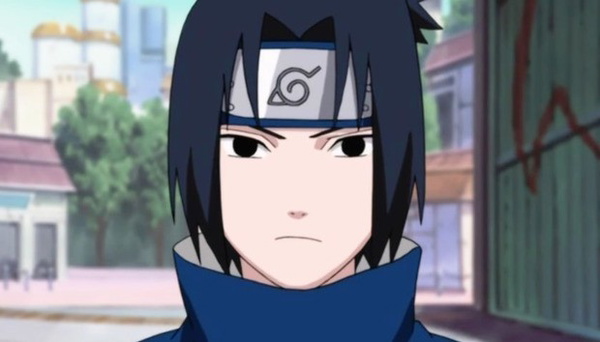 Village: Konohagakure (Hidden Village of the Leaf)
Young Sasuke has a tragic past, being one of the only survivors of the massacre that his older brother, Itachi, wrought with his entire family. He aims to become a shinobi (ninja) with the intention of one day being strong enough to avenge the Uchiha clan and kill Itachi.
All this hatred that he has nurtured since such a young age made him a bitter and serious young man. Although Naruto sees him as a great friend, Sasuke sees Naruto almost as a rival, especially when he decides to leave Team 7 and Konoha to go in search of more power.
Still, the time he trained with the Kakashi team made him learn to admire his teammates and even take risks to help them. For that reason, Sakura fell in love with him and Naruto risked his life and his plans to one day become Hokage to save him from the path he got involved in. But it won't be easy.
Powers
With an innate talent and a chakra of great power, Sasuke was considered a kind of natural genius at an early age. At just 7 years old, he was already able to use the Fire Release technique of the Uchiha clan.
After his training with Kakashi and later with other masters, the ninja could fight on equal footing with powerful shinobi like Gaara and even Orochimaru. In its trajectory, it develops powers such as the summoning of the mighty snake Manda, in addition to the Mangekyō Sharingan in its eye, which gives it different powerful resources.
Sakura Haruno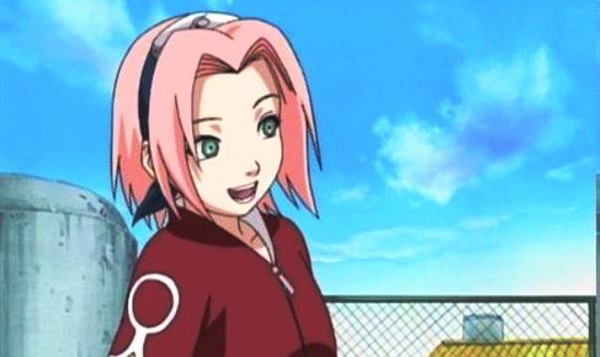 Village: Konohagakure (Hidden Village of the Leaf)
Sakura was an insecure child, something that changed after meeting Ino and becoming friends with the girl. Although she stood out as an exemplary and extremely intelligent student at the Academy, she sometimes left her interest in Sasuke and her preoccupation with appearance distracting her from her ninja skills.
Gradually, he matures and comes to know and understand better his teammates from Team 7, Naruto and Sasuke, although he has never suffered great losses like them. Brave and determined, she increasingly demonstrates that she is willing to take risks for those she loves.
In addition, he always brings with him the lessons and skills he learned from his master Tsunade. During the first part of the anime, she reveals more than once her passion for Sasuke, and it is this love that keeps her strength to keep trying to help her friend even after he makes wrong decisions.
Powers
At the beginning of her journey as a ninja, Sakura's strength was basically her intelligence, but her abilities were generally considered inferior to those of Sasuke and Naruto. But his training with Tsunade would change that.
Although her teammates from Team 7 have also grown a lot with ninjas, Sakura has significantly developed her skills and achieved a fighting style of her own. Also, with her excellent chakra control, she started on her way to becoming a medical ninja.
Kakashi Hatake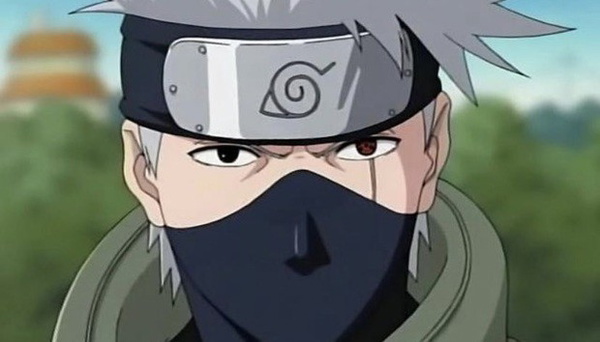 Village: Konohagakure (Hidden Village of the Leaf)
Even with childhood and youth marred by losses – including the death of his father and his close friends Rin and Obito Uchiha – Kakashi grew up a just and responsible man. In addition to showing great talents from an early age, the ninja has always dedicated himself to training and complemented his skills with the Sharingan he received from his friend Obito.
One of Konohagakure's most talented warriors, he was appointed leader of his own team at Konoha Academy, being responsible for guiding team 7, formed by Naruto, Sasuke and Sakura. He found in his dedication to students a motivation to improve his own skills.
He has a special interest in Naruto and Sasuke, both because he realizes the extent of their powers and because he sees in their friendship and rivalry something similar to what he had with Obito. Just like Naruto, he doesn't give up trying to save Sasuke and guide him back to the right path.
Powers
An extremely skilled ninja, Kakashi still has in his favour the Sharingan he received from Obito, a power that manifests in his eye, which starts to display a different colour and patterns.
This ability allows you to see the flow of chakra to your opponents. Furthermore, it gives you an incredible clarity of perception that allows you to recognize genjutsus and different forms of chakra. The feature even allows him to copy almost any fighting or defence technique from his opponents and use them in battle.
Tsunade
Village: Konohagakure (Hidden Leaf Village)
Affiliation: Three Legendary Ninjas / Fifth Hokage
When younger, Tsunade showed a certain cynicism about people trying to achieve their greatest dreams, especially if that dream was to become Hokage. After meeting Naruto, however, she realizes that her behavior was offensive to the memory of ancient Hokages, victims of wars, and the intentions of those who always aimed for the good of Konohagakure.
She ends up becoming the Fifth Hokage and demonstrates great loyalty to her village, even splitting her chakra to save the lives of thousands of people in Konoha during massive attacks. In addition, he starts to dedicate himself to ninjas in training, having high expectations for them. She even personally trains Sakura, guiding her to become a great medical ninja, like herself.
Tsunade is one of the Legendary Sannin of Konohagakure. Also known as the Three Legendary Ninjas, the group consists of her, Jiraya and Orochimaru. They were considered the greatest ninja of their time.
Powers
Superhuman strength, great speed and endurance, incredible skills with different fighting techniques and an ability to quickly perceive the combat style of his opponents are resources that Tsunade has in battle.
His fame as a medical ninja didn't come for anything either. Tsunade is capable of performing any medical procedure to heal wounds that many others would consider deadly and impossible to reverse.
Jiraya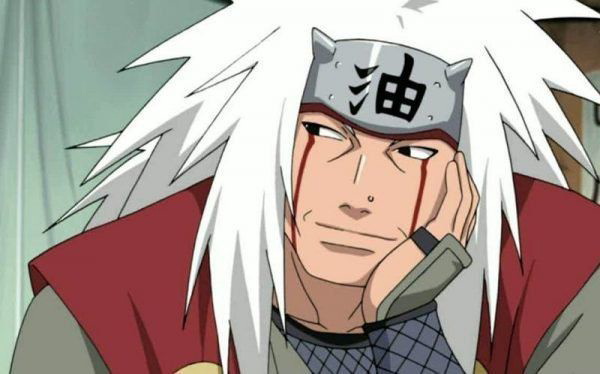 Village: Konohagakure (Hidden Leaf Village)
Affiliation: Three Legendary Ninjas
One of the members of the Three Legendary Ninjas, Jiraiya is one of Konoha's greatest warriors. But he was also known for his perverted ways, even developing techniques for observing women without being noticed. In addition, he wrote a popular series of adult fiction books.
Despite this, he also stands out for his loyalty to Konoha, always present to protect the village. Upon the death of the current Hokage, he rejects the position when offered, as he does not consider himself worthy, and volunteers to seek out Tsunade for the position.
Although Tsunade is a great friend of hers, he even threatens her with death when he suspects her loyalty. When he proves his friend's honesty, however, he becomes a loyal advisor when she takes over as the Fifth Hokage.
Powers
He became known as the Sage of Frogs for having as a signature technique the invocation of frogs . But it was the level of his power and abilities that made him one of the three Legendary Sannin. Jiraya is able to subdue some of the most powerful ninjas with his superhuman strength.
With an impressive reserve of chakra, he was able to learn Sage Mode. In this state, the ninja mixes the natural force of the world with his chakra, being able to explore this energy, develop new techniques and increase the intensity of other battle and defence resources he already has.
Orochimaru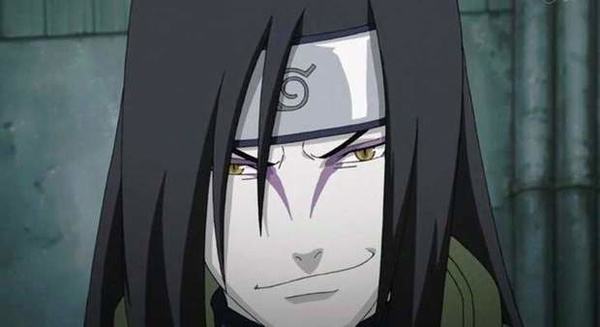 Village: Konohagakure (Hidden Leaf Village)
Affiliation: Three Legendary Ninjas
With a twisted mind since young, Orochimaru reacted to the trauma of losing those close to him by disdaining the fragility of human life. For this reason, he ended up wanting to achieve immortality, in order to have time to discover all the secrets of the world.
To do so, he even performed unauthorized experiments on other people to see which changes the human body could support and which of them provided new abilities and a step further in the quest for immortality . When he was discovered, he was expelled from Konoha, which made him want to take revenge on his village.
With his growing God complex, he ended up in fact making several modifications in his own body, increasing his power and decreasing more and more his own humanity.
Powers
One of the most powerful shinobi in Konoha's history, Orochimaru has a shadowy chakra that can have a heavy effect on the atmosphere when released. The various experiments he made on his own body gave him superhuman strength, speed and strength.
Furthermore, he became able to manipulate the shape of his body , recreating it as he wishes and being able to heal from major injuries. His affinity with snakes reached the point where he was able to transform his body into a kind of giant snake formed by smaller snakes.
Hiruzen Sarutobi (3º Hokage)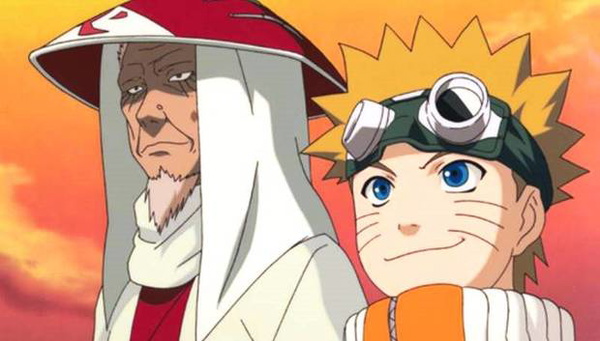 Village: Konohagakure (Hidden Leaf Village)
Affiliation: Third Hokage
Hiruzen is such a powerful ninja that he came to be known in Konoha as " God Shinobi ". He also acted as a teacher for the Sannin, but ended up guiding different generations of ninja in the country. Wise, performs his role as Hokage always trying to pacify situations to avoid deaths and more wars.
One of the few people who saw Naruto without prejudice because he was the bearer of Kurama, Hiruzen gained the young shinobi's respect and admiration early on. Always concerned about his students, he sees the next generation as a great treasure for the country.
A prodigy, he was trained by the First Hokage, Hashirama Senju. At some point in his life, he married and fathered Asuma Sarutobi. Before the Second Shinobi World War, Hiruzen mentored Orochimaru, Jiraiya and Tsunade.
Powers
Hiruzen is one of the most powerful shinobi on record, having become known as "God Shinobi. In addition, he received the nickname "The Professor" for knowing all the fighting techniques within Konoha and consequently knowing all the forms of ninja combat.
The Consuming Seal of the Dead Demon is his most powerful technique, whereby Hiruzen is able to seal the opponent's soul. In addition, he is one of the few ninjas that masters all five nature transformations.
Rock Lee
Village: Konohagakure (Hidden Village of the Leaf)
Unlike other ninja-in-training at the Konoha Academy, Rock Lee doesn't demonstrate mastery of chakra release techniques and other powers. Although it's a joke for this, he keeps training hard to make up for his shortcomings by becoming extremely skilled in taijutsu (body fighting). To do so, he has the guidance of his teacher Might Guy.
One of the most beloved characters in the anime, Rock Lee is always very energetic, friendly to everyone and extremely enthusiastic. A great sense of honour, not holding a grudge against those who have already defeated him in battle, respect for his opponents and loyalty to his friends made him known as the "nice guy".
Powers
The fact of not being able to use ninjutsu and genjutsus caused Rock Lee to be despised several times in the Academy. But his determination to make up for it with taijutsu paid off, and the ninja really shouldn't be underestimated.
Besides having already been able to defeat ninjas like Sasuke, Rock Lee starred in one of the most popular battles in the anime among fans, when he fought against Gaara and surprised everyone with the cards he had up his sleeve in his taijutsu techniques.
Might Guy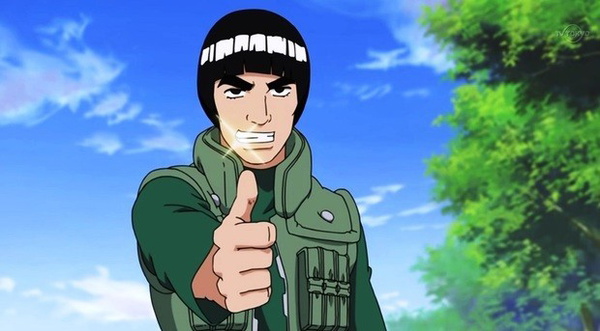 Village: Konohagakure (Hidden Village of the Leaf)
Guy is a Jōnin ninja, a kind of elite shinobi, with great experience and skills, who usually serves as a military captain. A mentor at the Konoha Academy, he leads Team Guy, formed by Rock Lee, Neji and Tenten.
Friendly and always positive, Guy is known for his big eyebrows, his green jumpsuit, his bowl haircut and his "nice guy" pose, always thumbs up and winking at his fellow students and fellow students.
An extremely skilled and intelligent ninja, he tries to pass this on to his students, and has a special interest in Rock Lee, as the boy reminds Guy of his own childhood. For this reason, he helps the young shinobi to make up for their ninjutsu deficiencies with strenuous training in taijutsu.
Powers
One of Konoha's strongest shinobi, Guy also struggled with ninjutsu and genjutsu as a child. For this reason, he devoted himself to extreme and unorthodox taijutsu training, which earned him great skills and impressive reserves of chakra and stamina.
As a child, he was able to open and use the Eight Gates – limits of an individual's Chakra Circulation System – a feat not achieved by some of the greatest ninjas.
Gaara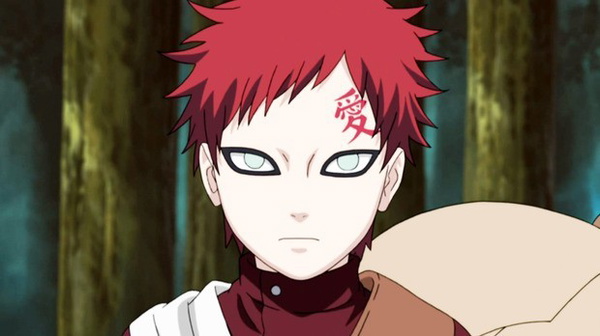 Village: Sunagakure (Hidden Village of Sand)
Like Naruto, Gaara had one of the tailed beasts sealed inside him when he was still quite young, transforming it into a jinchūriki (bearer of the tailed beasts). The procedure to seal the Shukaku (One-Tail) on Gaara ended up costing his mother his life and caused the boy to grow up lonely, as he was considered a monster by everyone in his village.
Because of this, Gaara developed a deep disdain for the world, working only to gain strength and hone his skills. With the philosophy of loving only himself, he began to feel a sickening pleasure in killing all those who were sent to kill him, feeding a sociopathic nature in the young man.
But the worldview that Gaara built changes drastically when he meets Naruto. He is amazed to discover that the shinobi had a childhood very similar to his own, but followed a different path. Naruto found people who truly cared about him and to whom he was extremely loyal.
Powers
Gaara was born with immense reserves of chakra, which only increased with the insertion of Shukaku into the young man. Extremely powerful from an early age, it has incredible strength and speed. But his best-known technique is his sand manipulation ninjutsu.
It is even with his sand that he usually performs all his blows, barely moving on the battlefield. Capture, crush, immobilize, defend and implode are among the resources the ninja developed with sand.
Temari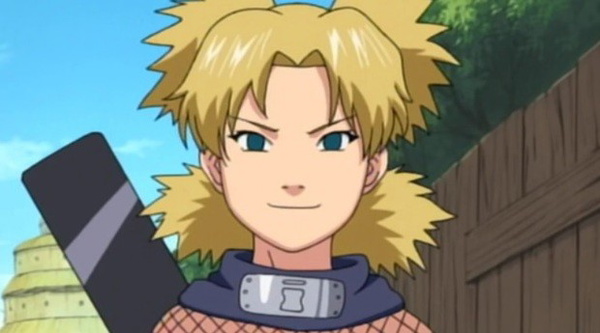 Village: Sunagakure (Hidden Village of Sand)
Also originally from Sunagakure, Temari is the sister of Gaara and Kankurō, the so-called Sand Brothers. He has already shown traces of cruelty when he sees Gaara killing some of his victims, but he prefers peace, always arguing against wars.
The only person he is afraid of is his own brother, Gaara, but he always tries to maintain a good relationship with him, as well as trying to pacify possible arguments between him and Kankurō.
He ends up getting close to the other ninjas at the Academy, especially Shikamaru Nara, and the two help each other at different times.
Powers
Specializing in long-range combat, Temari is extremely skilled and was once considered the best Wind Release user of the Fourth Division.
It usually uses techniques associated with its giant iron fan, with which it manages to create intense and dangerous wind currents and cutting eddies. The artefact can still be used to fly and to protect itself, being able to deflect weapons.
Kankurō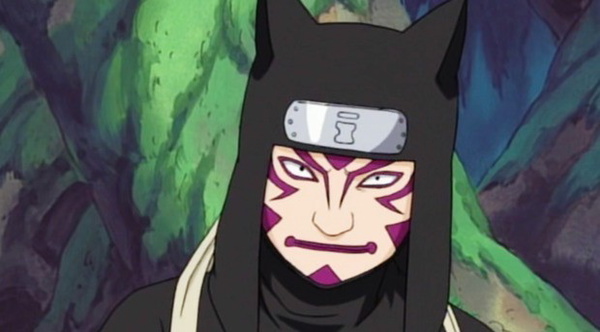 Village: Sunagakure (Hidden Village of Sand)
The third of the three Sand Brothers, Kankurō is Temari and Gaara's brother. Although he has always shown very little tolerance for children, he kept his cool around Gaara out of fear of what his younger brother was capable of. However, their relationship with him improves throughout the story and they end up getting very close.
With a protective relationship with each other, Kankurō even risked his life to save his brother. But the ninja also shows great willingness to protect his friends and the citizens of Konoha from different threats.
Powers
A skilled puppeteer, Kankurō uses the Puppet Technique with great dexterity, being able to modify and control the puppets to his advantage in battle. With the Body Replacement Technique, he can even switch places with his puppets. Also, you can attach your chakra lines with those of another puppeteer.
It uses even more violent techniques. One example is the Secret Black Technique: Triple Fire Machine, with which it can trap and kill a larger number of enemies. Already with the Infernal Mist Poison: One Hundred Continuous Shots, your puppets shoot poisoned needles.
Tenten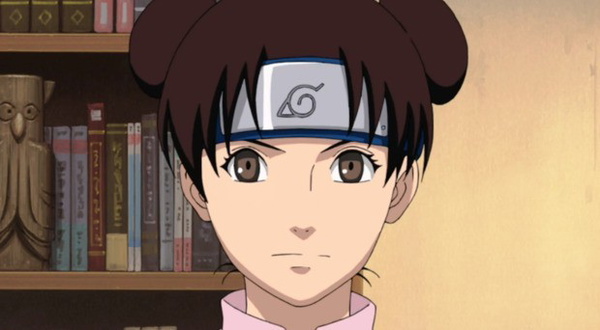 Village: Konohagakure (Hidden Village of the Leaf)
Although she is known for her fierce and somewhat scary personality, Tenten also has a softer, more affectionate side to her friends. He defends and wants to prove that a kunoichi (female ninja) can do everything a shinobi (male ninja) can do and just as well.
Having Tsunade as his figure of admiration, dreams of becoming a powerful ninja like her. Has a passion for weapons, always looking to study different types of weapons.
Smart, curious and analytical, she doesn't like to be left out of the important information surrounding the group of young ninjas. Although she is affectionate with her friends, she loses her patience with Lee and Guy's childish games.
Powers
A powerful warrior on the battlefield, Tenten relies on both her weapons skills and her talents in taijutsu, which saw her quickly promoted to the rank of chūnin ("medium-level ninja", who can guide other ninjas and lead missions).
Its chakra reserves are still large enough to seal large objects, in addition to successfully performing Fūnjutsus, such as when it summoned a fire dragon from its scroll or attacked using explosive papers as weapons.
Neji Hyūga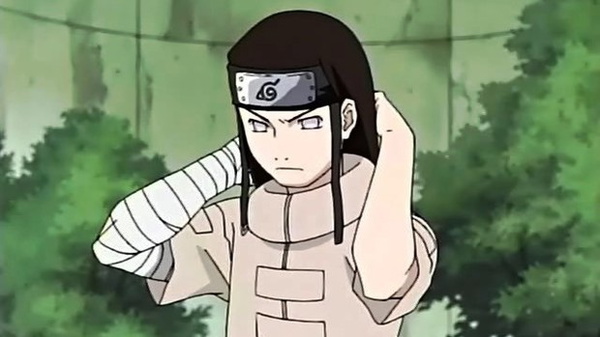 Village: Konohagakure (Hidden Village of the Leaf)
Neji is a member of the Hyūga clan, however, his clan is divided between the main house and the secondary house. Since he was part of the second, he grew up believing that, no matter how skilled he became, he would always be destined for a position below the members of the main house.
This ideology of not being able to escape from a destiny already traced in his birth changes when he meets Naruto. As the young Nine-Tails bearer demonstrates that he can't give up on changing what everyone believes is his destiny, Neji realizes he can change his, too.
Part of Team Guy at the Academy, Neji goes on to train even harder to change not only his future but also those of other people who were part of the Hyūga clan's secondary house.
Powers
Even though he is from the Hyūga clan's secondary house, Neji was considered a natural genius since he was a child, even being seen as the best newcomer in his class at the Academy. In addition to specializing in short-range taijutsu combat, Neji is also able to perform Fire, Water and Earth Release ninjutsu.
In addition, he has the Byakugan, a dōjutsu Kekkei Genkai (eye techniques) with which he can have nearly 360° vision, x-ray vision and the ability to see chakra networks.
Hinata Hyūga
Village: Konohagakure (Hidden Village of the Leaf)
Hinata's humble temperament, ever-gentle and extremely polite demeanour and Hinata's insecurities made her father judge her as unsuitable as heir to the main house of the Hyūga clan. Even his childhood was marked by the high expectations of the family, the exhausting training and the judgments of his father.
For that reason, she was one of the first students to identify with her difficult childhood and desire to prove herself to Naruto. During her training, Hinata is extremely determined and grows up quickly, always willing to take risks for her friends and for her village. And this new confidence was strongly inspired by Naruto.
Powers
With excellent chakra control, Hinata is able to create kinds of chakra needles, in addition to emitting currents and creating energy blades. Like the other members of her clan, she specializes in short-range unarmed combat.
Another power inherited from his family is his Byakugan, a Kekkei Genkai dōjutsu (eye power) that gives him near 360° vision, x-ray vision, and the power to see the Chakra Circulation System.
Shino Aburame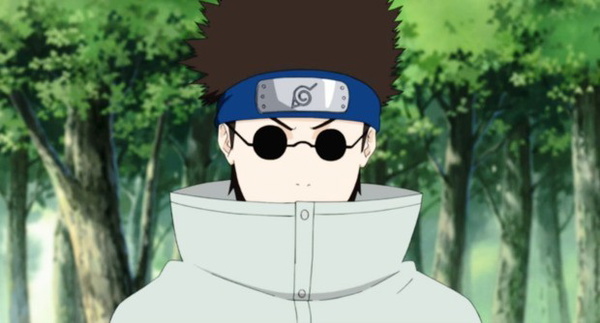 Village: Konohagakure (Hidden Village of the Leaf)
Calm, serious and extremely reserved since childhood, Shino is known for his expressionless and almost disheartening manner. Still, he has a connection with his fellow Academy members and allies, to whom he is always loyal.
Helped Hinata to better develop her skills, being one of the only people who believe in the potential of the young ninja, besides Naruto. Sensitive to what is happening around him, he always notices when there is something wrong with one of his companions.
With a strong attachment to insects, Shino demonstrates panic in situations where he has to deal with animals or plants that might threaten his "pets".
Powers
An extremely skilled shinobi, Shino has as his signature technique the ninjutsu in which he uses his insects in different blows. Like all of the Aburame clan, the young man was infused with a special breed of insect shortly after his birth. Using its body as a kind of nest, the insects feed on its chakra in a symbiotic relationship, in which Shino can also use the animals in a variety of ways.
With his insects, he is able to trap the opponent and consume their chakra, transfer chakra, create a clone of himself, cover the enemy in an insect cage, confuse opponents by creating fake chakra patterns, among other features.
Ino Yamanaka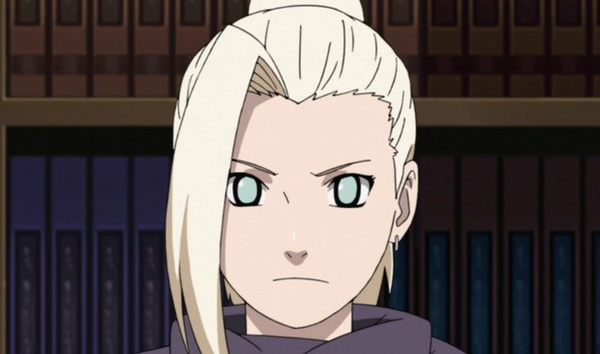 Village: Konohagakure (Hidden Village of the Leaf)
As part of Team Asuma, Ino is part of what they call Ino–Shika–Chō, the trio formed by her and her teammates Shikamaru Nara and Chōji Akimichi. While she is kind and cheerful, she can also seem a bit bossy, but only because of the lazy behaviours her peers sometimes display.
Ino grows up to become a great warrior, able to risk her life for those she loves and for her village. He developed a great friendship with Sakura and even helped to overcome certain insecurities that the young woman had.
According to her father, Inoichi, Ino has the potential to become the greatest member of the Yamanaka clan, and her trajectory as a kunoichi seems to show that she is on the way to that.
Powers
The techniques in which Ino stands out the most are precisely the ones she inherited from her clan, aimed at reaching the mind. Through the Body-Mind Swap Technique, for example, Ino can temporarily possess another person's mind, controlling her opponent and being able to spy and obtain important information.
With the Body Mind Disturbance Technique, the kunoichi is able to make her opponent attack targets close to her. The Mind Transfer Clone Technique, in turn, allows Ino to clone her consciousness and transfer it to multiple people at the same time.
Shikamaru Nara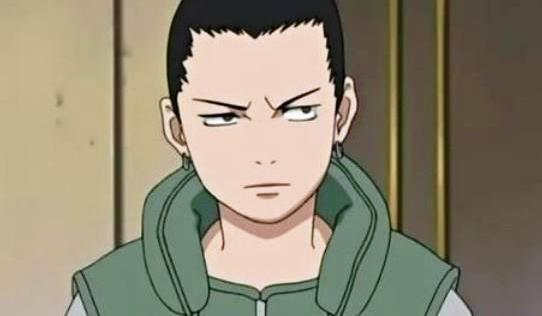 Village: Konohagakure (Hidden Village of the Leaf)
Also, a member of the Ino–Shika–Chō group formed by the members of Team Asuma, Shikamaru is known for both his intellect and his laziness. Although he always makes this laziness clear, that doesn't stop him from always being of service to his teammates, and from remaining loyal to the Academy, Naruto and Konoha.
Since childhood, he has avoided any activity he considers problematic, running away from responsibilities and not getting involved in fights as much as possible. But the limit of this has always been his moral compass and his commitment to his duties.
With an innate leadership ability, he was the first genin of his generation to become a chūnin. For this reason, he was appointed team leader, a responsibility that made the young man mature quickly and also began to worry about the well-being and safety of everyone in his village.
Powers
A powerful warrior, Shikamaru has a signature technique known as Shadow Imitation, whereby he manages to connect his shadow to that of his opponent. From there, he can control the opponent's movements.
As he grows and expands his field of technique, he is able to use it also to pick up or throw heavy objects or even hold them to enemies.
Chōji Akimichi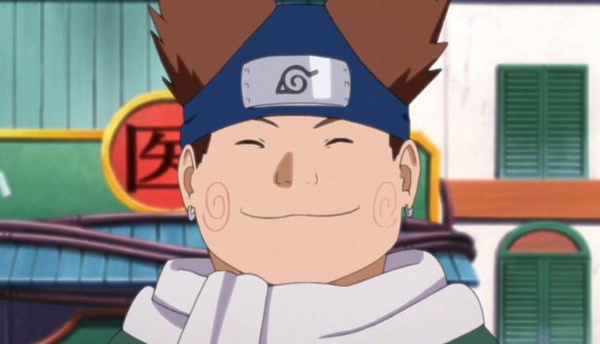 Village: Konohagakure (Hidden Village of the Leaf)
The third member of the Ino–Shika–Chō group and the Asuma team, Chōji is a kind and polite young man, qualities that his father and former teacher have always valued in the boy. His self-confidence, however, needs to improve significantly and is often shaken by his insecurity about being overweight as well.
Its relationship with food, however, is problematic. He is able to get into arguments over food or even prioritize the act of eating even at the expense of training and group work.
A great friend of Shikamaru, he is extremely loyal to him and his mentor Asuma. And it's motivated by them that he tries to push his limits and become a great ninja.
Powers
Chōji has deftly mastered the secret techniques of the Akimichi clan, linked to the ability to expand his body to increase the strength and range of attacks.
With the Multi-Size Technique, for example, you can transform into a kind of giant ball and attack your opponents. With the Partial Multiple Size Technique, you are able to expand only the part of the body you want, such as arms and legs, to use in specific blows.
Kabuto Yakushi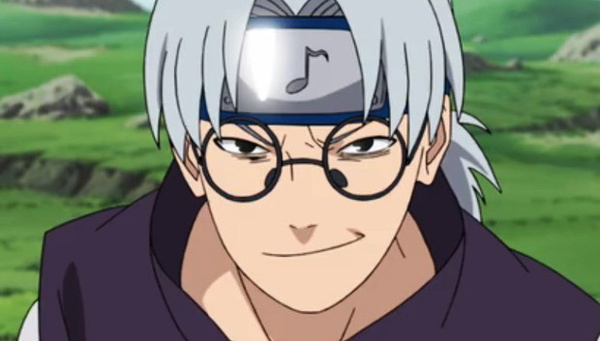 Village: Orphan of War
As a child, Kabuto lost his parents in the war and ended up falling into the domain of the Root Assassin Squad. The group took the young man to Konohagakure, but in return forced him to spy on the village using different identities.
Unsure of his own identity and extreme suffering, Kabuto ends up falling under Orochimaru's influence and, in time, becomes the dark ninja's, right-hand man. However, Kabuto's loyalty is only to himself, although he uses his time with Orochimaru to learn more and more.
In battle, he often uses his opponents' weaknesses and fears against them, with dark techniques like reincarnating in different people. He grows up with a cold, manipulative and sadistic personality.
Powers
Kabuto proves to have excellent medical skills, as well as mastering Sage Mode to amplify his powers. He has developed an ability to reactivate dead cells, which grants him great abilities of almost instantaneous healing.
As a weapon, he often uses chakra scalpels. From his medical ninjutsu, he even managed to develop various drugs with different effects, such as a truth serum or a drug that suppresses the power of a Wood Release user. You can reanimate corpses and use them to your advantage.